Dear Friends,

We apologize, once again, for not replying to each and every email. Few have inquired about the website statistics. From now onwards in every mail, at the bottom, we'll mention the same. Many have informed us that they print upto 500 posters and put them up at various locations. Our group (Kids Missing Alert) now has more than 1,00,000 members. If we all printed just ONE poster, imagine the reach and the increased chances of finding missing children - the pictures of missing children would be viewed by more than 100 million. On a minimum side a poster would be viewed by 1,000 people depending on the location where it has been put up. Eg. In offices - min 500, in schools/colleges - min 1000, in shopping malls - min. 1,00,000, at the railway stations - min. a few lakhs, rear window of your car - min. 5,000. We request you to take out just one printout of the poster (A/4 size) and paste/pin it on the notice board of your office/school/college or in a public place - cinema hall, bus stop, shopping mall etc. A printout will cost you less than Rs.2/- and take less than 5 minutes of your time; but for the parents of the missing children and for the missing children it can, perhaps, be priceless.

Urgent Request - We are looking for sponsors who can help us print 'Kids Missing' magazine (basically containing posters of missing children). Sponsorship amount is minimum Rs.20,000/- for 4 issues. Sponsor's name/logo will appear in the sponsorship page. Through the magazine we'll be able to disseminate the pictures of the missing children more effectively. Cheques/DDs may be made in favour of National Centre for Missing Children and sent to 502 Chetak Centre, 12/2 RNT Marg, Indore-452001. If any more information is needed please contact us on 0731-2519279 or email us at kidsmissing@gmail.com (in the subject please write - Kids Missing Magazine Sponsorship).

Regards,

for NCMC,
Anuj Bhargava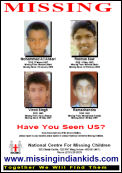 A missing child is counting on us.
Click here to print
the above poster
Our efforts
can help reunite a
missing child
with his parents.


Please print a poster. Do it in honour of the missing children who have not made it home and do it for all the children still missing.